For the third year in a row, we are gearing up for our biggest annual fundraiser event! This year is extra special for MANY reasons, but most importantly, we are coming home this year, which will be hosted right here on the property of the future Vanguard Landing community. Equally exciting, American Idol winner Trent Harmon is our special guest, and attendees will get to enjoy an intimate concert from this amazing musician thanks to our supporters at 106.1 New Country! We will have more music from Little Country and Doug and Jimmy Ray Dunn, incredible food from Sweetwater Cuisine and Jody's Delicious Popcorn, casino games by Astro Entertainment, and SO many other great activities. You'll just have to join us to see for yourself!
Be sure to get your tickets to our 3rd Annual "Hearts & Hoofbeats" Fundraiser for Vanguard Landing!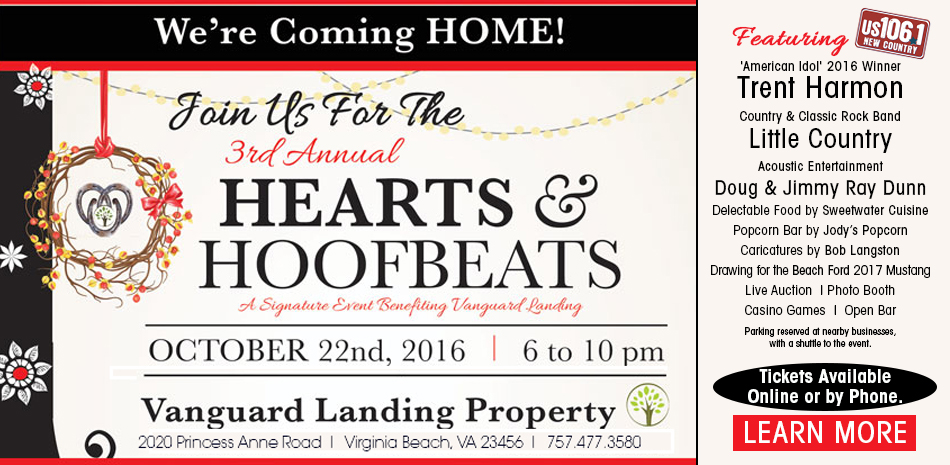 By the time our Hearts & Hoofbeats evening draws to a close, one lucky winner will be the proud new owner of a Cherry Red, 2017 Ford Mustang from Beach Ford! We will be picking one winner at random from the only 400 raffle tickets sold in our Mustang Raffle. Tickets are available here, but they are moving quick, so don't wait! As of now, only 200 tickets remain up for grabs. Don't worry, if you can't make it to Hearts & Hoofbeats this year, you can still enter to win this beautiful car. We are so grateful for the continued dedication to our mission that Tom Barton III (President of Beach Ford) and Beach Ford have shown us.
Plain and simple, we would not be able to make Hearts & Hoofbeats possible without the continued support from local businesses, organizations, and families, just like we are not able to make the dream of Vanguard Landing a reality without this same community support. It is a true testament to the compassion that surrounds us and brings people together to accomplish great things for individuals who need more fair opportunities! If you're interested in becoming a supporter of Vanguard Landing, contact Debbie atddear@vanguardlanding.org or visit our "How To Help"section on our website.
Be sure to check out our recent feature in The Pilot! by Sandra J. Pennecke. Show your support for Vanguard Landing by sharing the article with a friend who may not know that this community is being built right here in Virginia Beach.
"Everything is designed with them in mind," Dear said.
"At the end of the day, a parent of an adult child who has a disability is no different from when they were little.
We want to be sure they are safe, fulfilled and happy."