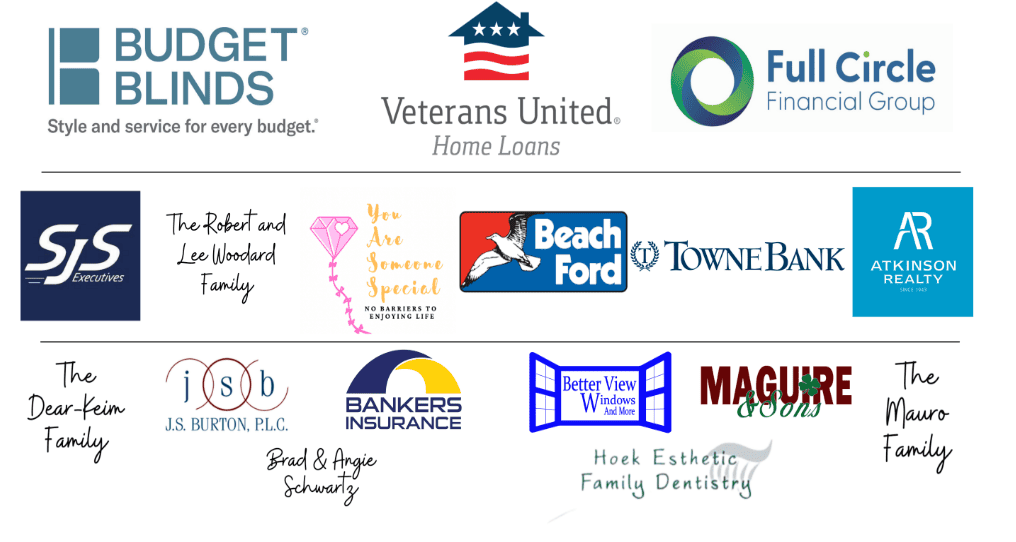 A BIG Vanguard Landing THANK YOU to ALL who made our 7Th Annual Hearts & Hoofbeats a great Success!
On Saturday, October 23rd, our wonderful guests and volunteers enjoyed a perfect fall evening at the gorgeous Culpepper Barn in Pungo in Virginia Beach!
We were so excited to have our Signature Event after taking a year off due to state restrictions for Covid!
Guests enjoyed seeing some classic cars, perusing the amazing Silent Auction while filling their bags with treats from the Popcorn Bar! Sweetwater Cuisine offered appetizers on trays and two delicious food stations! The Black Moon Tonic Band from Northern Virginia provided a musical backdrop that everyone enjoyed listening to and dancing to! We even had our very own "Elvis" with Chad Jackson performing a fun dance number to kick-off our "Jailhouse" activity!
The weather was beautiful, and everyone had both indoor and outdoor spaces to enjoy – a favorite being the rocking chairs on the front porch!  Our dedicated volunteers, along with our Sponsors, Shining Star Donors and attendees made this event a very successful one to support the mission of Vanguard Landing!
Plans for our 2022 event are already underway!
Thank you to:
Our Event Sponsors:
Budget Blinds    Veterans United Home Loans   Full Circle Financial Group
SJS Executives    Robert & Lee Woodard    You are Someone Special Fund
The Clement Family    Beach Ford    Towne Bank
Atkinson Realty     J S Burton PLC     Brad & Angie Schwartz
Bankers Insurance       Maguire & Sons       The Mauro Family
Better View Windows     Hoek Esthetic Family Dentistry     The Dear Keim Family
Our Shining Star Donors:
Ralph & Joy Rios       Terry Stevens     Stephen Salomonsky   
The McMahan Family  Dodie McGuire
Our In-Kind Sponsors:
Culpepper Barn    Black Moon Tonic Band    Signs of Success
Sweetwater Cuisine    Affordable Tent Rentals    Lianna Pevar Photography
Sandbridge/Upton 7-11    Brooke's Boards & Boxes    Ron Jackson/Tim Maguire
Chad Jackson Arts   Coastal Threads   Troy & Lori Bridges
Jennifer Creger
We were so proud that 100% of our vendors donated or discounted their services/items!
Our Silent Auction Donors:
Sharon Waldie   Heather Langston   Heron Ridge Golf Course   Sarah & Art Harbin
The Stall Family   Roast Rider Coffee    Anytime Fitness (Sandbridge)    Cycle Bar – Redmill
Grace Sawyer   Lindsay Whitehurst    Jennifer Clement   Austin Saunders
The Farm Life Market   Salon Oh!   Whiskey River Tattoo   Whiskey Kitchen
Jordan Dear   Michelle Strickland  Nathalie Moss   Diamond's Direct
Blue Pete's    Mahi's    Amanda Earl   Royal Chocolate
Erik Moore   Dr. Johnny's Appliance   Debbie Nolan   Whitney Dear Reyes
Heirloom Restaurant   Zen Hot Yoga   Running Etc.    Lululemon
Lindsey Dear   Everling Coastal Farm   Coast DIY Bar   Tinto Wine & Cheese
Pampered Chef/Stacey Cummings     Wasserhund Brewery    Cinema Café
Jody's Popcorn   River Dogs Kayaking   Ron Jackson    Dhalia Edwards Makeup
Holly Walsh Photography   Rudee Inlet Jetski & Parasail    Hot House Yoga
Jennifer Creger   The Mill Family   The Mauro Family    Terry Stevens
Delta Hotel-Shore Dr.   Golden Hour Boutique   School of Golf at Kempsville Greens
Airotciv by Victoria   Savor the Olive   Justin & Ashton Dear-Huffman
The Sleeping Bear Co.    Zeppelin & Oak Jewelry   Bottlecraft Beer Shop
Smartmouth Brewery  Melody East   Wendy Napolitano   Embrace The Grain
Dry House-Redmill  Karen Fox    Mika Fox   TR Dance
Matilda Jane /Nathalie DeGutis   Pop Vb   The Collective    Professional Landscapes of VA
Pungo Boys BBQ   Bee & The Biscuit   Irene Conlin   Diana Shue-Willis
Darling & Dapper   Escape Blow Dry & Bar   New River Taphouse
Club Pilates   ViBe Nutrition   Khadija's Cuzina   Ability Center of Virginia
Debra B Dear   Patty Clendenin   Pam Bolt     Jude Levy- Illuminate the Shadow
Taste    Bernadette Miller   Jackie McCormack    Connie Murphy
Susan Freeman   Wild Bird's Unlimited   The Book Exchange    Eliese DeGroff
Inlet Fitness   Total Wine & More     Diane Sessoms     Adventure Park/The VA Aquarium
Thomas Thornton Photography    Yianni's Wine Shop    Lauren Franza
Check out the amazing photos captured by Lianna Pevar Photography