SAVE THE DATE
Saturday
December 9th
6-10pm
The Venue at
Denali Jean Ranch
The 8th Annual Hearts & Hoofbeats
A very merry and memorable time was had by all at our 8th annual Hearts & Hoofbeats event – Christmas in the Country. What a huge success!
Guests enjoyed the largest food buffet we've ever had – thank you Pungo Boys BBQ, Fuddruckers, and Yummy Goodness for bringing the incredible flavors to our guests! Guests played our Wine Ring Toss Game, sent friends to our Candy Cane Jail, participated in our Cake Walk, Voted for their favorite Mini Tree Centerpieces, (Congrats to Michelle King Roper for winning that contest – It was a tight race!), and they watched the debut of our brand new VGL Video.
Guests were delighted to also enjoy The Blitzen, served by the phenomenal Tipsy Squirrel team and our future residents were excited to be called on by name by Santa Claus to receive special gifts! Such a special moment!
The talented Kristen Crowley emceed our evening, and guests got to hear from our Executive Director, Debbie Dear, a parent and supporter, John Napolitano, and Vanguard Landing was even presented with a check from Ping Pong for Charity and Ken Lees.  Lastly, a future resident made a speech to show his appreciation as well. WOW!
Our Incredible Event Sponsors and Powerful Event Committee made this event the success it was and we are grateful to each and every one of them!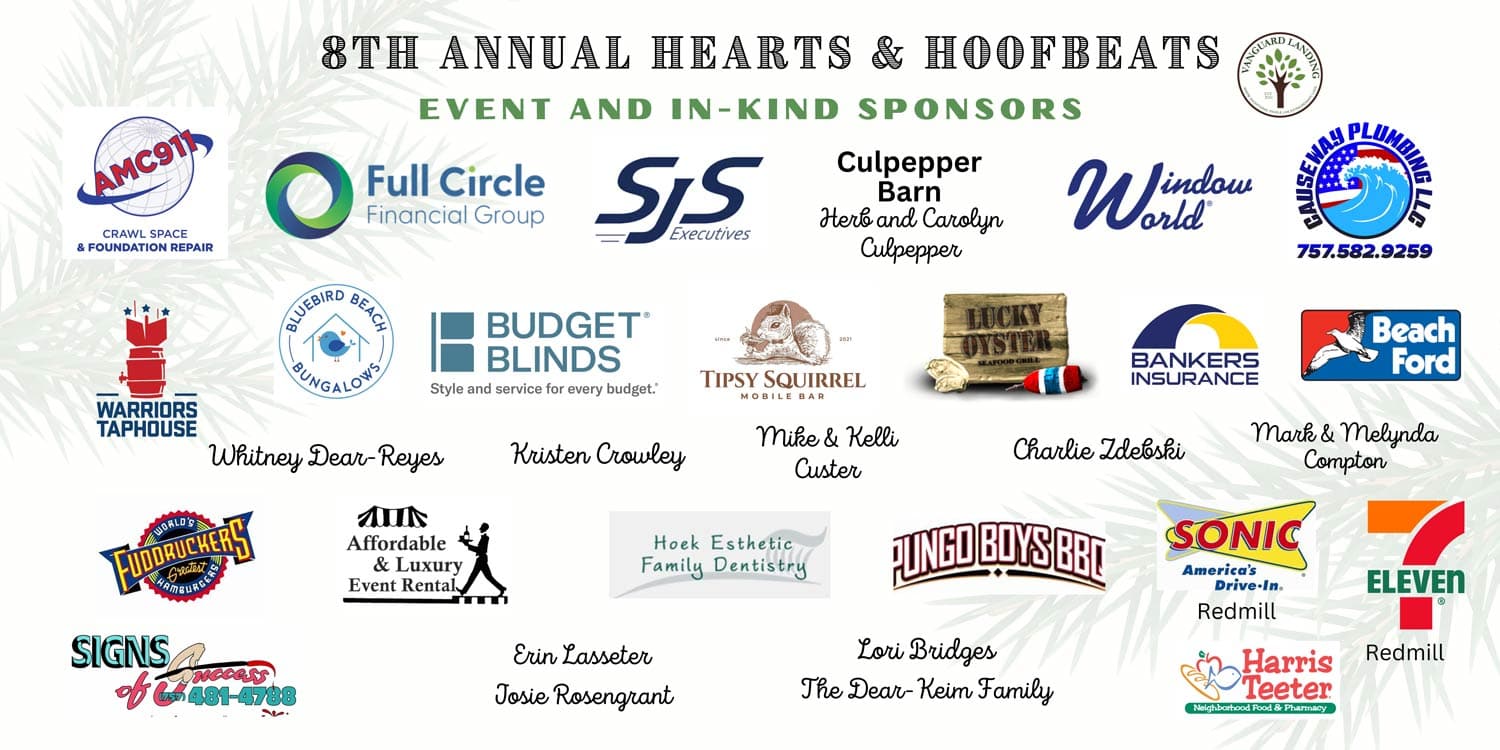 A HUGE Vanguard Landing thank you to our 
Gracious Giver $2500 Level Sponsors:
AMC 911
Causeway Plumbing
Full Circle Financial
SJS Executives
Window World
A BIG thank you to our Activity and Event Sponsors:
Budget Blinds – Rudolph's Event Shirt Sponsor
Beach Ford – Partial Food Station Sponsor
Bluebird Beach Bungalows – Prancer's Popcorn Bar Sponsor
Banker's Insurance – Comet's Cookies/Milk & The Blitzen Signature Drink Sponsor
Melynda and Mark Compton – Candy Cane Jail and Dasher's Cake Walk Sponsor
Lucky Oyster – Signature Ornament Sponsors
Kelli and Mike Custer – Santa's Surprise Gifts Sponsor
Warrior's Taphouse – Cupid's Cocoa Bar Sponsor
Hoek Dentistry – Reindeer Game Bingo Sponsor
Dear-Keim Family – Up on the Tabletop Mini Trees Sponsor
Thrivent, Susan Cook – Miscellaneous Event Support Sponsor
A Heartfelt thank you to all our In-Kind Sponsors:
Culpepper Barn, Coastal Threads, Tipsy Squirrel, Charlie Zdebski, Pungo Boys BBQ, Josie Rosengrant, Sonic, 7-11 Redmill, Erin Lasseter, Harris Teeter, Lori Bridges, Whitney Dear-Reyes, and Signs of Success!
An ENORMOUS thank you to our Event Committee
YOU Are true champions for Vanguard Landing and we are so grateful for your tireless efforts, your constant support, and your strong loyalty to our mission.
Thank you Lori Bridges, Jackie McCormack, Nathalie Moss, Ashton Dear-Huffman, Jennifer Staude, Jordan Dear, Thomas Thornton, Lee Woodard, Jennifer Clement, Josie Rosengrant, Billie Miller, Laure Haddock, Laura Irvine, Lisa and Julie Sugden, Julie Jackson, and Erin Lasseter.
PADDLE RAISERS
HEARTS & HOOFBEATS 2022
RAISED $14,000 IN 10 MINUTES!
Scott and Allison Bough
Jason Boyce
Patricia Clendenin
Mark and Melynda Compton
Genine Cooper
Mike and Kelli Custer
Debra Dear
Margaret Dutton
Keri Estabrooks
Karen Fortier
Jesus Garcia
Denise Green
Katie Hammer
Charlie and Celeste Hayes
Barbara Henley
Ed Hopper
George and Cristy Huffman
Chris and Chelsea Jennings
Ron Keim
Geoff and Brenda Klein
Mark Lane
Curtis and Naseem Matteson
Brian and Mariel McClung
Angie and Eric Moulton
Jodi Newland
John and Kim Nickerson
Colleen OMara
Jennie and Brad Solis
Margaret Swingle
Dianna and Rick Wassell
Nick Werner
And a Grateful thank you to all of our Silent Auction Donors:
Alicia Simpkins
Amanda Earl
Angie Schwartz
Ashley Vaughan
Austin Saunders – High Caliber Craftsman
Billie Miller
Billie Miller
Blue Pete's Restaurant
Candace Rarick
Carly Melvin
Causeway Plumbing – The Staude Family
Chef Alvin "AJ" Hyman – Sweetwater Cuisine
Cinema Café
Coast DIY
Connie Murphy – Connie's Wreaths
Cristy Huffman
Crystal Hilliard
Dahlia Edwards
Debbie Dear
Debbie Nolan
Delite Lee Bakery
Diane Sessoms
Either Ore Jewelers
Erin Lasseter
Ever Jane Boutique
Freedom Outdoors – Ed Noqueras
Fuddrucker's Virginia Beach
Greenbriar Dental
Heirloom Restaurant
Irene Fox
Jackie McCormack
Jamie Todd
Jessica Palaoro
Jim White Fitness
Jodi Moore Newland – Sweetwater Cuisine
Julie Harshaw
Julie Summs
Katie Reper
Latitude Climbing
Laura Irvine
Lee Rech – Color Street
Lemontree Gallery
Leslie Long
Lindsey Dear
Lori Bridges
Massage Luxe – Parisa Granger
Michelle Holmes School of Golf
My New Beginnings – Tina Dalgleish
Nathalie Jackson Moss
Neptune's Fury – Matt and Jason
Northhampton Inn – Cape Charles – Tiffany
Nothing Bundt Cakes Hilltop
Paula B's Southern Shore
Peggy Pahoilis
Pungo Board House
Rachel Ulrickson
River Dogs Kayaking – Spencer Hull
Robert Mills
Ronald Jackson
Rudee Inlet Jet Ski/Parasail
Salon Mosaic
Sarah Harbin – Twice Loved 757
Shay Shay
Shirley Lester
Southside Harley Davidson
Taste Town Center – Rob Reper
Taylor Skeet and Sara Merill
Tidewater Mulch
The Ability Center of Virginia
The Body Shop
The Farm Life Organic
The Hive @ Greenbriar Farms
The Knotty Hippie
The Manfredonia Family
The Paper Topiary – Tonya Davis
The Royal Chocolate
Thirteen Winks – Carla Ryan
Thomas Thornton
Three Notch'd Brewing
Tina Dalgleish
Tonya Davis
Veronica Vale
Victoria DiSilvestro
Warrior's Taphouse – The Culler Family
Whiskey Kitchen
Whitney Booze – Beach House Cookies
Here's a glimpse at our event through the lens of Linde Nagel Photography! Thank you Linde!