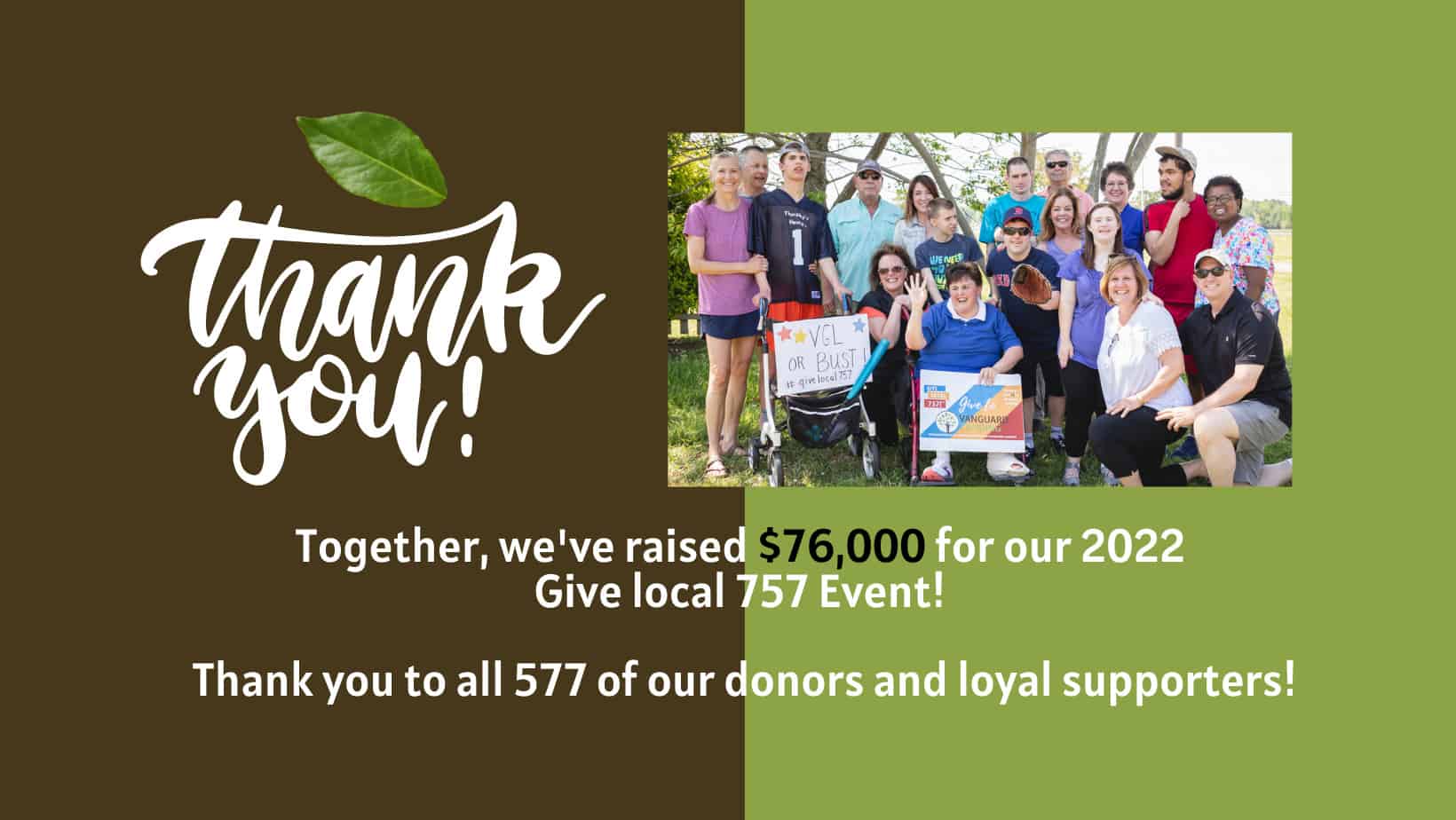 We are so beyond grateful! We had yet another successful Give Local 757 event on Tuesday, May 10th and we are excited to share that we have raised over $68,000 so far — and it's still growing!
🌳We had 574 Donors
‼ We had 26 Fundraising Teams/Individuals
🌎 We had donations from 32 States + Vietnam, France, and Australia!
🏆We won 2 bonus prizes of $757 each!
🤟100% FUN was had by ALL!
THANK YOU to our incredible Fundraising Champions who all worked on their OWN fundraising goal to help us!
Lori and Caleb Bridges
Dave Clement
Jennifer and Brendan Clement
Patricia Clendenin
Genine and Josh Cooper
Ghada Culler
Debra and Lindsey Dear
Jordan Dear
Ashton and Justin Dear-Huffman
Whitney Dear-Reyes
Mary Beth DeMore
Skylar Dudley
Amanda and Andrew Earl
Laure Haddock
Julie and Roman Harshaw
Sophia Kamarek
Bernadette and Mary Claire Miller
Nathalie Moss
Sarah Rodriguez
Josie Rosengrant
Tatjana Roth
Yetta and William Roy
Thomas Thornton
Rachel and Kevin Ulricksen
Lee and Bobby Woodard
Charlie Sr. and Charlie Jr. Zdebski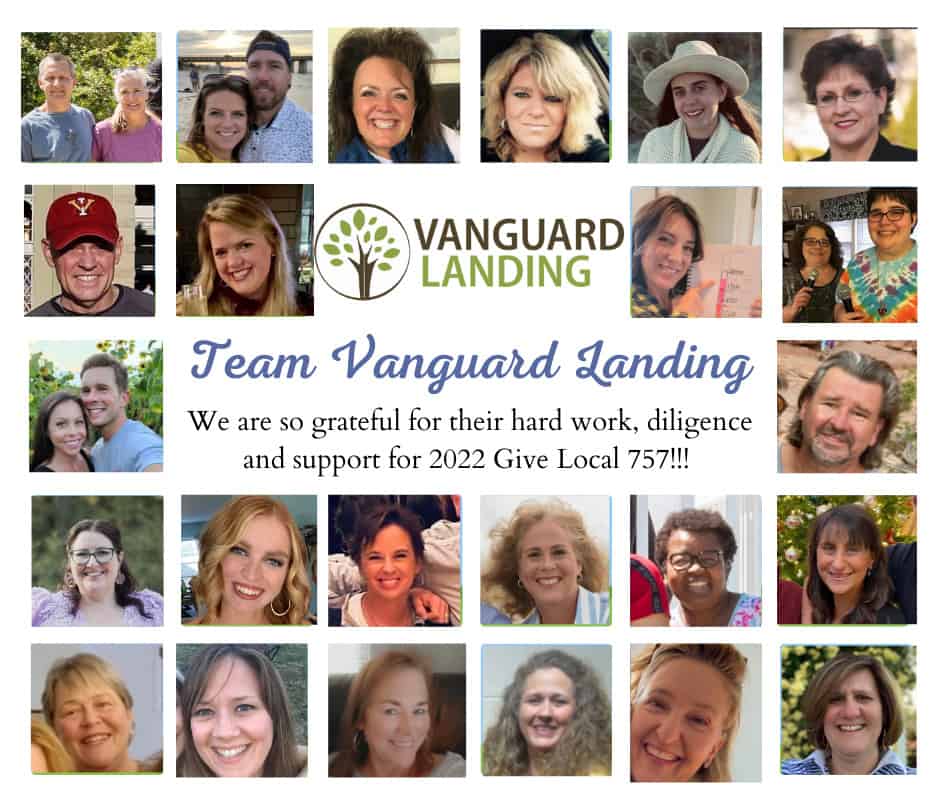 Thanks to all of our donors…
$5,000+
Tim and Katie Grencewicz in honor of Tom & Marie Bond
$1,000-$4,999
Michael

Barnum

Robert and Jodie Berndt

JB and Jean Bond

David and Debbie Bond

in honor of Thomas Bond

Genine

Cooper in memory of Katie Cooper

Debra Dear in honor of Tom and Marie Bond and Lindsey Dear

Debra Dear in honor of The VGL Fundraising Teams

Debra Dear in honor of All the Future Residents

Gino Gonzalez

Mariel Mcclung

Cynthia McCraw in memory of Tom Bond

Carolyn

O'Connor

Brian, Colleen and Daniel OMara

Blue Pete's Restaurant

Josephine Rosengrant in memory of Jessica Rosengrant

Marc Sharp

Sally Thomas
Paul and Christie Walker in honor of Matt Woodard
$500-$999
Mason

Carrington

Pauline

Crytzer

Surjya Das

Karen Frazier

Judy German in memory of Thomas L Bond

Molly Kapsner

Ron Keim

Kirk and Amy Levy

Marcella Murphy in honor of Brendan

Vickie Pulley

Lawrence Studdiford

Chris and Lindsay Wagner
$100-$499
Mary Adkins in honor of VGL

Wayne

Aiello

Diane Allen

Regina

Anderson

Sheila Andrews

Hugh and Carol Archer

Shane Argabright

Brigid Banasiewicz in honor of Danny Coughlin – a young man who lit up a community

Janice Barrera

Charles Baumgardner

Christopher Bennett

Larry and Amy

Bernert

Margaret Bond

Marie Bond in memory of Tom Bond, Lindsey & Debbie Dear

Jordan

Boyd

Randy

Bregman in honor of Matt Woodard

Lori Bridges

Doug Brown

Dayna Browne

Heidi Burke

Thomas Cassidy

Xiu Cheng

Annemarie Cleary

Jennifer Clement

Audray

Clement

John Coates

Irene Conlin in memory of Jessica Rosengrant

Kellie Connors in honor Jessica Rosengrant

William Conway

Corey Cook in honor of Everett Eddy & Family

Mary Payton Cromwell

Paula Crooks

Ghada

Culler in honor of Stephen Culler

Greg Daniel

Marlin

Daniel in honor of Roman Harshaw

Jeanne

Dascoli in honor of Davis Mill

Sarah Davenport

Jordan

Dear

Douglas and Cynthia Dear

Justin and Ashton Dear-Huffman

Georgia DeBarr

Mary Beth DeMore

Cyndi Disilvestro

Sharon

Dodge

Robert

Downs

Rommel and Jennifer Dudley

Laura and Terry Dunne

Amanda Earl

Mary Earl in honor of Andy

Dolly Earl in honor of Andrew Earl

Matt and Jana

Elkins

Robin Ellis

Sheila Erhardt in honor of Roman Daniel

Lis Ewald

John and Joyce Fain

Kristen, Madison and Ryleigh Farley

Douglas Fierberg

Richard Fitzgerald

Karen Fletcher

Rhonda Forrest in honor of John Forrest

Benson Fraser

Daniel Fuhrman

Craig Gallagher

Kevin Gates in honor of Charlie Z

Jessica

Glajch

Stuart Goldwag

Lori Gomoke

Elaine Griffin in honor of the Harshaws

Melissa Guba in honor of Davis Mill

Barbi Hann

Anne Harris in honor of Matt Woodard – Hope you meet/surpass your goal!

Thomas and Susan Heckard

Karen S Hertenstein

Kelly Hollowell

Delia Howard

Cristy Huffman in honor of Clayton and Ann Tinnell

Christine Hunter

Rebecca Husseh

James Jaehnig

Anne Jarrett

Christopher Jennings in honor of Chad Jackson and Lindsey Dear

Chelsea Jennings

Ragan Killen

Donna Killen

Kristen Lang

Kathryn Lanker

Kenneth Lees in honor of Josh Cooper

Linda Lindfors

Gary Lindner

Edward Longosz

Mary B Love in honor of Matt Woodard

Dawn Lozano

Fred and Sharon Manfredonia in memory of Nuss, Smith and Manfredonia Families

Melody McGhee

Amy McIntosh

Beverly McNeal in honor of Joshua Cooper

Paul Meadows

Kelly Medovich in honor of Joshua Cooper

Patricia Michael

Laura Mill

Kara Minson in honor of Jessica Rosengrant

Michele Mitchell

John Moncure

Kara Moran

Joseph

Morrison

John and Wendy Napolitano in honor of Whitney Napolitano

Lawrence Nathan

Scott Neal

Sharon Nedzbala in honor of Matt Woodard – We are so glad to support this effort! xoxo Sherry and Mike

Binh Nguyen

Ellen Nolan in honor of Davis Mill

Debbie

Nolan

in memory of Ken Nolan

Debbie Nolan in honor of PawPaw Worsham

David Nygaard

Scott Orr in memory of Tom Bond

Carter Owens

Jessica

Pandit

Francis

Parlant

Miguel

Peko

Matthew Phar

Laurie Phillips in honor of Caleb Bridges

Margaret Pittman

John Plemmons in honor of Caleb Bridges

Henry Pollard

Maureen Rabe

Kriston Rabon

Taunia Reed

Richard Riddell

Amy Ridgway

Lisa Ridinger

Damon Risucci

Sarah and Corey Rodriguez

John Rogan

Robert

Rogers

John Rudolph

Kay Scafone

Angie Schwartz

Nancy Scoper

Clelia Sheppard

Kevin Simon

Shaun Squyres

Matt and Terry Stevens

Thomas Stiner

Genelda Sulouff in honor of Josh Cooper

John Talvacchia in honor of Charles Zdebski

Robert Tata

Sarah Templeton

Chase Thomas

Sybilla Turner

Meg Turner

Rachel

Ulriksen

Robert W. Underwood

Benjamin Unkle Jr in honor of Matt – Love the Woodards

Michael Via in memory of Ashley Via

Joan Wagner in honor of Matt Woodard

Hilary Walker

Laura Weis

Elizabeth Weller

Kevin Welsh

Jon Whitley

David Wilkins

Mary Wilkinson in honor of Andrew Earl – So excited about this opportunity for Andy!

Georgiana Williams in honor of Joshua Cooper

Karen Woodard

Jay and Karen Woodard

James

Woodard in honor of Matt Woodard

Sabra Young

Karen Young

Charles Zdebski
$50-$99
Mia Bachman

Kurt Bailey in memory of Kerriel Bailey

Ricky Balcom

David and Gwen Bergeson

Mandy

Berkowitz

Stacy and Shelia Berry

Jane Booth

Casey Brewer

Dawn Bridges

Arts Off Broadway in honor of Lucy

Joe and Mary Lou Camarda

Wai Kwan Chan

Elizabeth and Bill Clark

Jennifer Clement

Timothy Cochran

Joshua

Cooper

David Cooper in memory of Our Daughter Katie Sarah Cooper

Marinna Copanezos

Virginia Cope in honor of Caleb Bridges

Jessica

Copeland

Jose Corpuz

Lindsay Crytzer

Luke Crytzer

Sarah Daugherty

Daniel De Carbonel in honor of Brendan Clement

James

Dinette

Victoria Disilvestro

Christine Drescher

Jeffrey

Dziki

Elaine Eason

Tonia and Jeff

Ellwood in memory of Jessica Rosengrant – I don't have your Aunt Josie's email, so please let her know how great I think this project is. I wish them complete success.

Irene Fox

Jacquelyn Francisco

John Freese

Roseann Gapusan

Bryan Garner

Terence Geel

Jon Geel

James Gipson

Rose Gotthardt

Corbin

Granger

Mildred Greeves in honor of Joshua Cooper

Stephanie Greeves

Alejandro Guadarrama

Sandra

Gunter

Samir Hakooz

Miriam Harris

Bertha

Hines

Patti and Danny Hitchcock

Cassandra Hofmann Cole

Katie Horton

Jennifer Howell

Kimberly Hughes in honor of Josh Cooper – Love You 

Nicole Hughes in honor of Davis Mill

Lucinda Huston

Kim Ikehara

Deanna Isemann

Lance Jacobs

Garney Johnson

Sandra

Johnson

Angie Jones

Linda Kamarek

Janice Keener

Kim Kellam

Sharon Kilada

Matthew Kirsner in honor of Charlie Zdebski

Anne Kisthardt

Evgeny Klyukin

Kimberly Knapp

Joyce Kossman

Tom and Emily Kyewski

Andreya Kyle

Dana Lamade

Martha M Lamberth

James Leavitt in honor of Matt Woodard

Michelle Loiacono

Michael Mahoney

Alisha Malcarne

Robyn Marshall

Stevei Martin in memory of Jessica

Dawn Martin

Sarah Mathews

Naseem Matteson

Rita McCaskill

Jacqueline McCormack

Florence McEneaney

William Mei in honor of Brendan Clement

Chris Milito

Ashley Mirambell

Ronald Morgan

Nicole Moriarty-Garner

Nathalie Moss in honor of Chad Jackson

Yasemin Murad

Lisa Naghiu

Sandra Nance

Judith Neuman

Michelle Northrup

Asita Obeyesekere

Eric Page

Lori Painter

Sharon Parker

in honor of Virginia Teagle

Linda Pegram

Justin Pender

Shaylene Perry

Bonnie Pfeiffer in honor of Genine Cooper at Rose and Womble – May God Bless this Mission

Karen Pohl

Amy Powell

Adelina Prokopiev

Lorna Rathbone

Jonathan Reyes

Lindley

Richardson

Joy Rios

Tammy Ross in honor of Matt Woodard

Lisa Rupe

Bethany Sattie

Danielle Schweikert

Eric Shea

Scott Smeltzer

Patricia Smith

Jeanice

Tanyag

Stephen Tears

Erika Territo in honor of Jessica

Nancy Vanderford

Annika Vogt

Karen Wagner

Helene Watts in honor of Matt Woodard

Barbara Watz Sawyer in honor of Roman Harshaw

Kari Weber

Maureen Whitfield

Emily Williams

Katherine Williams
$10-$49
Jane A Krom

Christine Adam

Regina Albee

Ann Ambrose

Valerie Andres in memory of Jessica

Carmen Anthony

Rebecca Astruc

Audra Aubin

Ruth Barrineau-Brooks

Penny Benning in honor of Jessica Rosengrant

Mary Biegun

Leila Bissell

Patricia Borrell

Terence Breen

Jordan Bridges

Joshua Bridges

Brett Brunkenhoefer

Raymond Buchanan

Karen Buckley in honor of Mrs. Sophie Zdebski –

For my Beloved Nephew Charlie…and in honor of Our Beloved Mom…who gave us a family full of love…May Little Charlie always know that he is special, loved and never have to feel alone…ALL my love, Aunt Karen 

Stefanie Bulleigh in honor of Caleb Bridges

Christopher Bures

Joseph Burke

Scott Burns

Janette Caldwell

Donna Callaway

Manuel Camarena

Martha Carucci

David Clement

David D

Clement

Sophia Clement

Liam Clement

Claire Clement

Patricia Clendenin

Megan Cooper in honor of Joshua Cooper (big brother <3)

Emily Cooper in honor of Joshua Cooper

Kylee and Bryce Cope

Ericka Counts

Colleen Crandall

Bonnie Crowder

Windy Crutchfield

Mary Curran

Coleen Curtis

Pamela Dauer

Dorothy Davis

Marie Dawson

Whitney Dear-Reyes

Grace Delacruz

Becky Demetriou

Louise DeMore

Marie DeMore in honor of Sean DeMore

Michele Derwent

Lane Derwent

Dana Dieterle

Colette Diggs

Brianna DiSilvestro

Angela Donovan

Annie Lou Doster

Aubrey Drescher

Laurent

Dreyfus

Skylar Dudley

Karen Durrant in honor of Andy Earl

Joe E

Hannah

Earl

Michael

Earl

Christine Erie in honor of Caleb Bridges

Caroline Esposito

Mandy Farmer

Llorence Ferrer

Stephanie Fields

Rae Ann Firoved

Carrie Fischer

Kaitlyn Fitzgerald

Ashley Francisco

Calonia Fults

Cassie Gardner

Melissa Gilmore

Danielle Gonzales

Denise Green

Carrie Greene

Calvin Gunning

Laure Haddock

Jacqui Hakooz

Jason Hakooz

Janeen Hamilton in honor of My sweet girl Caly!!

Rebecca Harrell

Kelsey Harryman in honor of Davis!

William

Harshaw

Carolyn

Harshaw

Melissa

Harshaw

Julie Harshaw in memory of JoAnn Daniel and in honor of Roman Harshaw

Roman Harshaw in memory of Grandmommy

Robin Hays in memory of Jessica Rosengrant

Jerri Heck

Sara Hedges

Meghan and Cory Herold

Elizabeth Herrin

Kathleen Hershey

Alexandra Heu

Daniel Hopkins

Janet James

Paul Johnston

Shermaine Jones

Shauna

Kale

Tamara

Kamarek

Stephen Kamarek

Kim Keith

Bekah Kelly

Steve Kiehl

Emily Koehnlein

LeeAnn Kohl

Raegan

Kotsko

Debra Langford

Marion

Lawton

Katherine Lehman

Karen Leonard

Kim Lindsay

Tasha Lomax

Richard

Lowe

Faina Lunn

Terrie Lynch

Jeanette Mackey

Robert Malloy

Liesel Martin

Erica Mauro

Christine McLaren

Laurie Metzger

Meredith Mill

Frank, Bernadette and Mary Claire Miller in honor of Mary Claire's graduation

Lisa Molinari

Mary Lee Moncure

Patricia

Montana

Emili Munn

Madeline Myers

Heather Neil

Rebecca Nelson

Lynn Neubauer in memory of Paige Neubauer

Kelsey Newton

Margaret Norfleet

Phoukham Noydara

Kelly OBrien

Dari O'Brien

Allison Oleski

Betsy O'Neill

Jennifer Ostroski in honor of Jessica

Martha

Patterson in honor Liam Clement

Nicole Paxson

Christopher Perkins

Lianna Pevar

Gavyn Pifer

Ashley Pinzon

Mary Powell

Michael A Pritchard

David Purdy

Kathryn H Pusateri

Gloria Ragadio

DJ Rathbone

Margaret Reinhardt in honor of Matt Woodard  – We watch Matt cruise the feeder road often

Adam Rex

Leslie Elle Rhue

Melani Rice in honor of Matt Woodard

Laura Rixey honor of Matt Woodard

Beth Robbins

Donna Robel

Alexandra Rogin

Michaela Rossi

Yetta Roy in honor of William Roy

Sara Sachs

Michele Santee in memory of Jessica Rosengrant

Olivia Sanusi

Kimberlee Sautter

Gabrielle Scandone

Morgan Scheible

Bryce Schuman

Matthew Schwarzmann

Skylar Scott

Charlotte Shearer

Julie Sherman in honor of Roman xo

Jack and Hannah Shively

Jack Shively

Brady Shultz

Christine Sleight in honor of Kevin Ulriksen

Jonna E

Smith

Barbara

Smith

honor

Kristin Smith

Temple

St Clair

Megan

Stackhouse

Carolyn

Starkey

Elizabeth Staub

Joseph Stierwalt

Kimberly Stratton

Shirley Stuart

Teresa Sutton

Tori Swejk

Jessica Swejkoski

Susan Taylor

Shiannah Teetsel in memory of Jessica Rosengrant

Marie Thomason

Gail Thompson

Thomas Thornton

Brenda Tokarz

Jola Tyrpa in memory of Irene Tyrpa

Nicole Upshur

Jeremy Van Nocker

Casey Van Wagoner

Glen Walker

Kaitlyn Wallace

Aileen Walsh

Mikaela Watkins in honor of Juan Carlos Torres

Joanne Weaver in memory of Jessica Rosengrant

Cindy Weaver

Anne Webb

Patricia Whitt

Kelly Wiggs

Linda Wildermuth

Jessica Wilkens

Anne Williams

Dixie Williams

Ashleigh Witt

Florence Womacks

James Wood

Robert Woodard

Sarah Woodard

in honor of Matt Woodard

Joseph Woodard

Elizabeth Woodard in honor of Matt

Eric Workman

Kathy Wyatt

Charlotte Young

Katie Zerkle

Corey Zoldan

Christopher Zyra