🌳
We had 645 Donors
‼
We had 26 Fundraising Teams/Individuals
🌎
We had donations from 37 States!
Our 2023 Give Local 757 fundraiser was a HUGE success! This 24 hour online donation blitz event raised over $151,150!! Out of over 219 fellow non profits, Vanguard Landing was the #1 Fundraiser!
We set out to raise $100,000. Then a very generous anonymous donor offered a $50,000 "cherry on top" donation when we hit at least $50,000! Absolutely incredible!
🏆
We won 2 bonus prizes too! $1000 Grand Prize for having the Most Unique Donors and $400 for having the most donors during the 12-1pm timeframe.
🤟
100% FUN was had by ALL!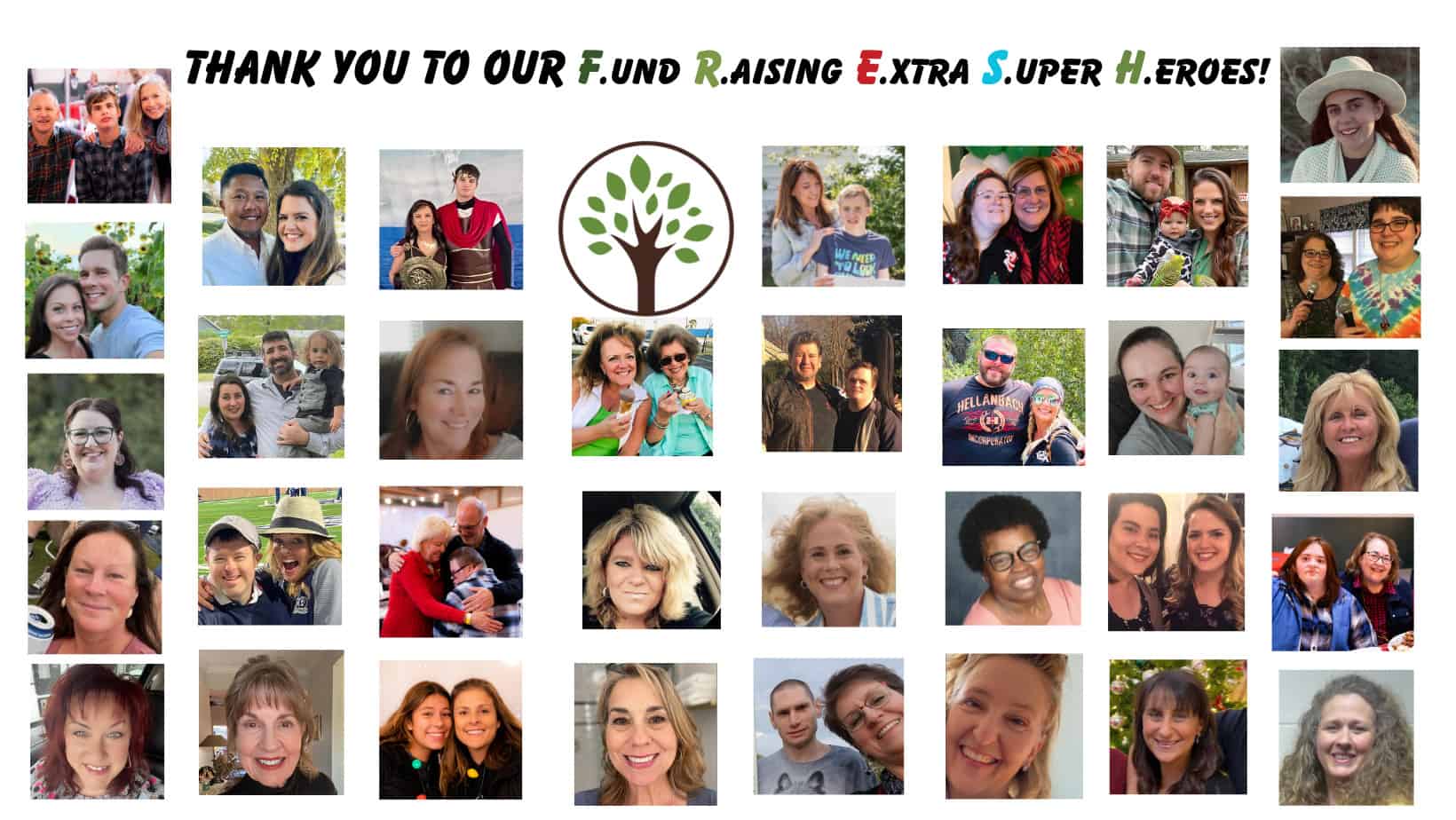 Lee and Bobby Woodard
Nathalie Moss and Thomas Thornton
Sarah Rodriguez
Jackie McCormack
Erin Lasseter
Jonathan Reyes
Whitney Dear-Reyes
Nikki Moriarty
Garner Chad and Julie Jackson
Marcella Murphy
Julie and Roman Harshaw
Laure Haddock
Geoff, Brenda, and Greg Klein
Julia and Lisa Sugden
Debbie Dear, Marie Bond, and Lindsey Dear
Lori and Caleb Bridges
Megan Stackhouse
Jennifer and Brenden Clement
Charlie and Charlie, Jr. Zdebski
Rachel and Kevin Ulriksen
Genine and Josh Cooper
Billie and Mary
Claire Miller
Jennifer and David Staude
Yetta and William Roy
Mary Beth and Sean DeMore
Ashton, Justin, and June Dear-Huffman
Danielle Carpenter
Jordan Dear
Cassie Gardner
Ghada Culler
Sophia Kamarek
Josie Rosengrant
Paula Knight
Laura and Mary Irvine
Amanda and Andrew Earl
Thanks to all of our donors…
$5,000+
Audray Clement
Tim and Katie Grencewicz
Amanda and Dolly Earl
David Bond
$1,000-$4,999
James

Bond

Charles

Clark

Debra

Dear

Amy

Folkes

Jeffrey

Foster in honor of Morgan

Gerrard

Jones

Cynthia

McCraw

Cheryl

McLeskey

Debbie

Nolan

Brian

O'Mara

Nathan

Price

April

Rudolph

Kimberly

Stall

Jennifer

Staude

David

Staude

Luck Foundation
$500-$999
Katharine

Adkins

Jeff

Clay

Pauline

Crytzer

Mary Beth

DeMore

Mary

Earl

Jana

Elkins

Karen

Fox

Taylor

Grissom in honor of Whitney Napolitano

Shay

Kamme

Geoffrey and Brenda

Klein

Bernadette

Leidel

Gary

Lindner

Laura

Mill

Henry

Pollard

Chris

Sauerwald

Barbara

Smith

Allan

Strange
$100-$499
Mary

Adkins

Diane

Allen

Regina

Anderson

Sheila

Andrews

Susan

B Siceluff

Mia

Bachman

Charles

Baumgardner

Barbara

Baxter 

Mary Beth

Bean

Brittany

Beasley

Barbara

Bissell

Marie

Bond

Margaret

Bond

Stephanie

Boone

Allison

Bough

James

Bowie

Olivia

Buehl

Carole

Brock

Doug

Brown

Adriana

Burton

Mary Lou

Camarda

Jerry

Caravas

Karen

Carlton

Cynthia

Casteen

Sara

Chandler

Xiu

Cheng

Angela

Cinninham

Leesa

Claywell

Dan

Clearfield

Annemarie

Cleary

Jennifer

Clement

Patricia

Clendenin

Anita

Coates

Shirley R

Condon

Corey

Cook

Genine

Cooper

Rick

Corey

Diane

Cote in honor of Roman Harshaw

Joshua

Crabtree

Ghada

Culler

Joshua

Culpeper

Vernon

Daniel

Sarah

Davenport

William

Davenport

Jordan

Dear

Ashton

Dear-Huffman

Sean

DeMore

LA

Dorman

Judith

Dunn

David and Bonnie

Dussia

Melody

East

Robin

Ellis

Sheila

Erhardt

Caroline

Esposito

Chris

Ettel

John

Ewald

The Bridges

Family

Karen

Farquer

John

Finck

Ronald

Flenner

Liam

Florian

Rhonda

Forrest

Susan

Fowlkes

Brenda

Freeman

Heather

Froslid

Daniel

Fuhrman

Sandra

Fuller – in honor of Jackie McCormack

Drew

Gaffney

Richard

Gemberling

Marjorie

Georgiades

Judy

German

James

Golden

Catherine

Golden

Lori

Gomoke

Elaine

Griffin

Cynthia

Guerrero

Louise

Gunderson

Linda

Haase

Joseph

Haddock

Ryan

Hadley

Gail

Hadley-Goggin

Barbi

Hann

Anne

Harris

Janice

Hart

Chad

Henry

Rochelle

Heron

Richard

Herrick

Elizabeth Hewitt

Diana and Lew

Hicks

Tim

Higley

Joan

Hill

Cristy

Huffman 

Laura

Irvine

Chelsea

Jennings

Christopher

Jennings

Christian

Jepsen

Paul

Joseph

Nancy

Joseph

Tami

Kamarek

William

Kamarek

Ronald

Keim

Margaret

Kennedy

Michael

Ketchmark

Jeffrey

Ketz

Sturgis

Kidder

Shelly

Kraus

Dana

Lamade

Jean

Lathram

John

Lathram in honor of Matt Woodard

Madison

Lees

Laurie

Lees

Shirley Lester

Diane

Levine

david

Linn

Kaila

Lohr

Mary Bland

Love

Bobbie

Lucius

Joy

Lyon

Christine

Macdonald 

Katherine

Macke

Melissa

Maisenbacher

Donald

Marcum

Darlene

Marks 

Naseem

Matteson 

David and Erica

Mauro

Jesse

McCabe

Erin

McConnell

Patrick and Jackie

McCormack

William

McCutcheon

Melody

McGhee

Amy

McIntosh

Georgia

Medovich 

Lynn

Meyer

Robert

Mill

Mark

Miller

William

Miller

Sarah

Morrison

Christi

Moyer

Janet

Mueller

Marcella

Murphy

Ann

Mykins

Sheryl

Nagle

John and Wendy

Napolitano

Gregory

Nerland 

Judith

Neuman 

Sharon

Norton

Malcolm

Nunn

John

ODonnell

MARC

OMARA

Daniel

Parr

John

Pascale 

Katherine

Pattillo

Chris

Pearl

Lee S

Peregoff

Lucky

Peterson

Stacy

Petrin

Laurie

Phillips

Kimberly

Pitney

Laura

Porter

Suzanne

Powell

Amaris

Pozniak

Donald

Pyde

Maureen

Rabe

Kevon

Rabon

Taunia

Reed

Laura

Ricketts

Karen

Ridle

Clifton

Roberson

Lori

Robinson 

Corey and Sarah

Rodriguez

Virginia

Rogan

Elisabeth

Rosenfeld

Josephine

Rosengrant

Anna

Salasky

Donna

Sansone

Kay

Scafone 

Jennifer

Schols

Cynthia

Schwartz

Clelia C

Sheppard

Susan

Sheppard 

Carl

Shultz

Kevin

Simon

Wanda

Simpson

Christine

Sleight

Shaun

Squyres

John

Stearns

Terry

Stevens

Genelda

Suloff

Sarah A

Templeton

Vikki

Thompson

Thomas

Thornton

Logan

Tillery

James

Todd

Eliza

Tse

Rachel

Ulriksen

Linda

Unseth

Nancy

Vanderford

Melissa

Venable

Donald

Ward

Janet

Webb

Elizabeth

Weller

Charles

West

Erin

Widener McConnell

Mary

Wilkinson 

Jude

Williams

Bryan

Wingate

Charles

Zdebski

Curtis

Zimmerman

Margaret Cullivan
John and Anita Coates
Elaine Griffin
$50-$99
Catherine

Adams

Kara

Albee

George

Alznauer

Daina

Anderson

Carmen

Anthony

Jessica

Bailey

Belinda

Baker

Garry

Ballance 

Brigid

Banasiewicz

Lillian

Beecher

David

Beloff

Hilary

Bernritter

Mark

Bigelow

Holly

Bonds

Rebecca

Bowman

Erin

Buchanan

David

Burgmeier

Barbara

Burgmeier

Heidi

Burke 

Janelle

Carino

Danielle

Carpenter

Lauren

Catts

Peter

Chordas

Sara

Cliborne

Kathy

Cloutier

Lisa

Conway-Sugden

Emily

Cooper

Megan

Cooper

Marinna

Copanezos

Terrie

Crabtree

Sarah

Daugherty

Whitney

Dear-Reyes

Raymond

DeFrank

Rhonda

Dimirack 

John

Doyle

Clare

Draper

Gregory

Dunn

Hannah

Earl

Michael

Earl

Bryan

Earl

Ethan

Edwards

Thomas

Elliott

Western

Ellis 

Erika

Ellwood 

Jeremy

Eye

Melissa

Fain 

Michaela

Falvey

The Alznauer

Family

Kathy

Felton 

Stephanie

Fields 

Ashley

Francisco

Jacquelyn

Francisco

Danilo

Fularon

Bryan

Garner

Karen

Garrison

Amy

Gaskin

David

Gehris

Denis

Getmano

Michael

Goldberg

Rose

Gotthardt

Laure

Haddock

Samir

Hakooz

Katelyne

Hale

Brittany

Harris

Julie

Harshaw

Christian

Hartung

Todd

Hassler

Allison

Hogan

Jonathan

Holland

Susan

Hooks

Melissa

Horton

Alan

Hosack

Melissa

Houck

Melissa

Hudgins

Kimberly

Hughes 

Susie

Jackson

Sandra

Johnson

Joyce E

Johnson

Garney

Johnson

Angie

Jones

Dorothy

Jordan

Sharon

Keefe

Manning

Kingery

Sarah

Klein

Evgeny

Klyukin

Raegan

Kotsko

Jason

Kowalski

Tom and Emily

Kyewski

Shannon

Lavender

Stanton

Leavitt

Addyson

Leonard

Michelle

Loiacono

Edward

Longosz

Tracy

Marks

Erin

McCabe

Josie

McGhie

Michael

McGill

Patricia

Michael

Robert

Miller

Amy

Miller

Morgan

Milliken

Jennie

Mitchell

Joel

Moore

Jodi

Moore

Nathalie

Moss

Angela

Moulton

Mary

Munshower

Susan

Murphy

Robin

Nelson

Lynn

Neubauer

Matt

Newland

Lucy

Newman

Tara

Nikituk

Grace

Nordt

Margaret

Norfleet 

Michelle

Northrup

VaLynn

Olive

Jenny

Oliver

Charlotte

Opauski

Eric

Page

Francis

PARLANT

Whitt

Patricia

Ruth

PEAGLER

Leigh

Penner

Rhonda

Polfus herrod

Kelsey

Reagan

Janet

Redmond

Heather

Reilly

Nancy

Renegar in honor of Chad Jackson – I am inspired by a devoted mother and her beloved son!

Adam

Rex

Brooke

Richard

Joy

Rios

Sarah

Rogan

Michelle

Roper

Lisa

Rupe 

Jennifer

Saintsing

Mary

Saunders

Patti

Schinbine 

Kimberly

Schultz

Chris

Seljeskog

Melissa

Sharples

Montana

Slater

Joe

Snodgrass

Temple

St Clair

Amber

Stewart

Colin

Stolle

Shirley

Stuart

Elizabeth

Thomas

Andrea

Thomas

Lisa

Varga

Earl

Vickery

Louise

Viegas in honor of Kevin Ulriksen

Kelsey

Vincent

Dawn

Vivirito

Emily

Walker

William

Weakley

Joanne

Weed

Mary

Wigfield

Emily

Williams

Lori

Wills

Sarah

Woodard

Katherine

Wynne

Katie

Zerkle

Donna and Martin Williamson
$10-$49
Debbie

Beckmann

David

Aguilar

Heidi

Albee

Regina

Albee

Wendy

Alexander

Macie

Allen

Lora

Almuete 

Mary

Amici

Kelsey

Baker

Norma

Balster

Stacy

Barnes

Valerie

Barrett

Megan

Becker

Penny

Benning 

Mary

Benson

Lisa

Bertini

Jada

Box

Tammy

Bramble

Lisa

Bramhill

Justin

Brewster

Morgan Brinkley

Carole

Brock

Doug

Brown

Diana

Bryggman

Karen

Buckley in honor Charles Zdebski – God Bless my Precious Special Nephew Charlie!

Stefanie Bulleigh

Chris

Bures

Michelle Burkett

Trudy

Capoccioni

Michala

Cardwell

Nathan

Carlson

Amanda Cartmel

Beverlee Celestin

Cecilia

Christian

Antonia Christianson

David

Clement

Sophia

Clement

Nicole

Cocozza

Rosa

Cox

Denise

Cranmore

Windy

Crutchfield

Jason

Dalton

Greg

Daniel

Shawn

Darnell

Kenneth Dawson

Paige Leclear

Danyne

____

Grace

Delacruz 

Sue

Delaney

Becky

Demetriou

Dominic DeMore

Patricia

DeMore

Marie

DeMore

Lauren

Dodson

Shannon

Dolida 

Angela

Donovan

Richard

Drescher

Sarah

Durkin

Karen

Durrant

Lorilynn

Egan

Carly

Elliott

Kathleen

Ellison

Christine

Erie

Diana

Ernst

Jill

Eyler

Kelly

Fader

Nelson

Fernandez

Therese

Fink

Luanda

Fiscella

John

Fisher

Julie

Flanders

Cynthia

Focke

Shannon

Ford

Kate

Fowler

Christie

Fox

Irene

Fox 

Douglas

Fresman

Jack

Furr

Kim

Garcia

Cassie

Gardner

Melissa

Gilmore

Helen

Gingerella

Lisa

Gorski 

Suzan

Graham

Denise

Green

Katherine

Griffith

Hannah

Gross

Jennifer

Hadac

Michael

Hadley

Stephany

Hale

Parker

Hamlin

Athena

Hanny

Amy

Hardman

Nancy

Harmon

Nichole

Hart

Nancy

Hendricks

Amanda

Herman

Victoria

Herrera

Nickie

Herron

Alexandra

Heu

Maya

Holihan

Megan

Holland

Andrea

Holleman

Rebecca

Hopkins

Ed

Hopper

Brendan

Horgan

Macro

IT

David

Jaffe

Sarah

James

Darlene

Jones

Janee

Joslin

Barbara

Kahn

Stacey

Kelly

Bekah

Kelly

Theresa

Kelly

Thomas

Kennedy 

Katrina

Klingensmith

Megan

Lang

Karen

Leonard

Kay

Liddi

Alexandra

Linberg

Tracy

LoAlbo

Kim

MacGregor

Jeanette

Mackey

Tamela

Mallamo

Peter

Mann Jr

Marissa

Mardosas

Stevei

Martin

Samantha

May

Barbara

Mayville

Brooke

McAllister 

Kara

McCaa

Cassandra

McDade

Angel

McIntosh

Danielle

Meiss

Vikki

Metz

John

Mondschein

Don

Montague

Theresa

Moore

Rachel

Moore

Carolina

Moppett

Karen

Moran

Mary Ellen

Moriarty

Nicole

Moriarty- Garner

Sandi

Morse

Sandra

Nance

Heather

Neil

Kayla

Newton 

Lane

Noe 

Kelly

OBrien 

Susan

OConnell

Susan

OConnor

 Kevin

OHara

Dennis

Omara

Andrew

Parker

Nicole

Parrish

Katherine

Patterson

Lindsay

Pelick

Patricia

Perdue 

Robert

Pickett

Paul

Powers

Nicole

Prince

Nikki

Radford 

Donna

Redfern

Sally Reed

Jonathan

Reyes

Parker

Richard

Esther

Rodriguez

Olivia

Sanusi

Morgan

Scheible

Deborah

Schmitz

Courtney

Scott

Daniel

Shackelford 

Theodore and Joyce

Sharples

Lindsey

Shortridge

Devika

Singh

Katlin

Smith

Debi

Smith

Shannon

Snow

Megan

Stackhouse 

Rachel

Stanley

Leslie

Swazey

Rayanne

Tamayo 

Shiannah

Teetsel

Gail

Thompson

Thomas

Thornton

Robin

Tong

Jola

Tyrpa

Heidi

Ullrich

Cheryl

Valentine

Debra

Vaughan

Carol

Warburton

Dianna

Wassell

Barry

Weaver

Tracey

Weinstein

Lindsay

Whitehurst

Anne

Williams

Katherine

Williams

Kimberly

Wilson 

Diane

Witherspoon

Jay

Woodard

Ben

Woodard

Eric

Workman

Kelly

Yount

Dane

Zarate

Corey

Zoldan

Kim Nozzarella
Carolyn Weiss