We are firm believers in the saying: "Teamwork makes the dream work." And when it comes to a grassroots organization such as Vanguard Landing, it is absolutely true! We are so grateful for our community supporters and sponsors who have stood side by side with us to make giant leaps and bounds toward breaking ground on the future residential community for adults with intellectual disabilities.
We are committed in our mission to give these individuals another choice for where they want to live, work and recreate, and our efforts are bolstered by those in our community and from afar who contribute to support the cause. We have had supporters in the form of parents, local politicians, local businesses and other non-profit organizations, educators, business owners near and far, and simply those who have a special place in their hearts for the pressing need for better alternatives for this population. We have said it once before and we'll say it again: Vanguard Landing would not be possible without the community around us coming together to support this vision. Watch our Executive Director Debbie Dear talk about this exact issue in this short video:
[wpdevart_youtube]43PNN6pjO2c[/wpdevart_youtube]
Just this week, we were able to partner with a local favorite restaurant, ShoreBreak, to take part in a fundraiser event for Vanguard Landing. We raised $621.84 at this fundraiser event, sold a few tickets to our upcoming events, and were able to spread awareness on what Vanguard Landing is all about. Thanks ShoreBreak for hosting us!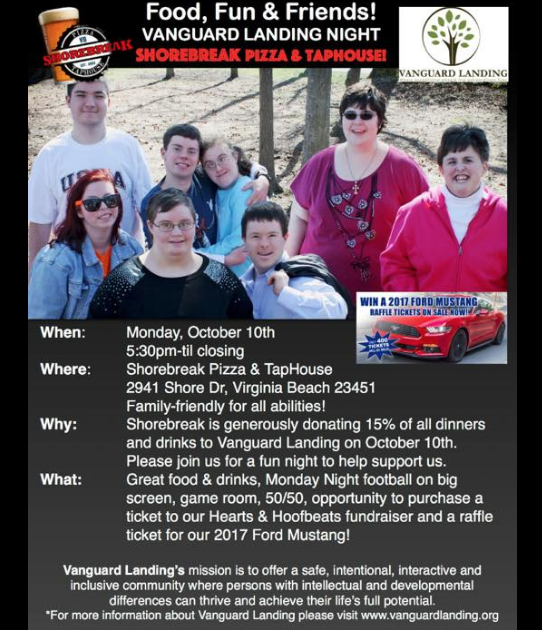 We are now a little over a week away from our much-anticipated 3rd Annual Hearts & Hoofbeats event on October 22nd, and we are so excited to host everyone at the property for this year's event!
There's a little something for everyone at this year's Hearts & Hoofbeats event. Whether you can't wait to jam to the sweet vocals of Trent Harmon, enjoy delectable food by Sweetwater Cuisine, test your luck at fun casino games with Astro Entertainment, or simply mingle with new and old friends, we can't wait to see you there! Tickets are still available here, but not for long. You do not want to miss out on this night of festivities and fundraising for Vanguard Landing!
PLUS we will be announcing the lucky winner of our 2017 Mustang Raffle during the evening on Oct. 22nd. It could be you! We still have just over 100 tickets up for grabs to win this beautiful car. Remember – we are only selling 400 tickets, meaning you have a 1 in 400 chance to win! You can even increase your odds by purchasing more tickets!
No matter what brings you to the farmhouse for Hearts & Hoofbeats this year, we can promise you'll have a great time.