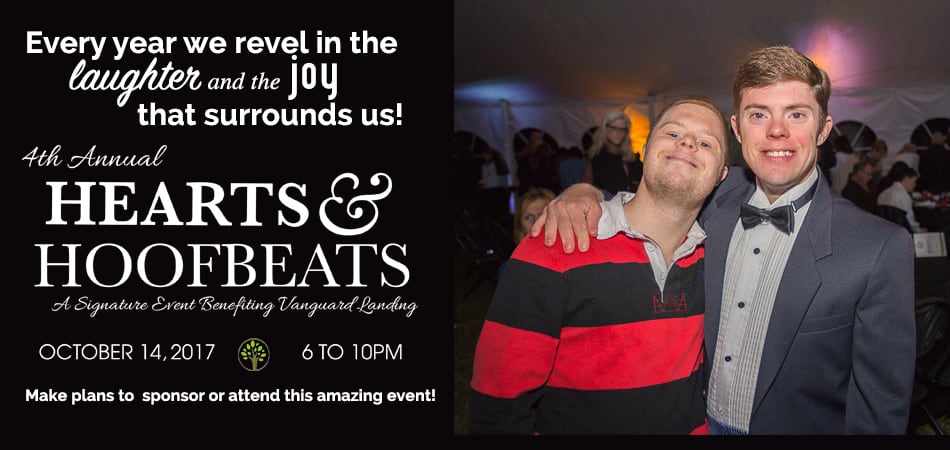 The planning has begun for our 4th Annual Hearts & Hoofbeats signature event! Hearts & Hoofbeats will be held at the Vanguard Landing property on October 14, 2017, and will include performances from the Hotcakes Band, as well as our Sound Waves Glee Club. We hope you'll plan to join is for a night of yummy food, drinks, fun activities and auctions!
This is an amazing evening for supporters to come together, learn more about Vanguard landing, and celebrate the accomplishments of those with disabilities. It's also a great opportunity to make this dream a reality as we continue taking steps toward breaking ground.
We'll have a lot more information available in the next severals weeks. We can't wait to begin showcasing our lovely auction items for you, as well as introducing you to the talent you'll be able to witness during the event. Hearts & hoofbeats is one of our favorite events of the year because we get to have some fun for a great cause. Thank you so much for choosing to take this journey with us. We're forever grateful, and look forward to celebrating with you in a few months!
If you or your company are interested in helping sponsor the event or donating auction items, contact us today. We'd love to have you partner with us for this amazing cause.
For now, mark your calendar for for Oct. 14, tell your friends, and plan on a great event for a wonderful cause!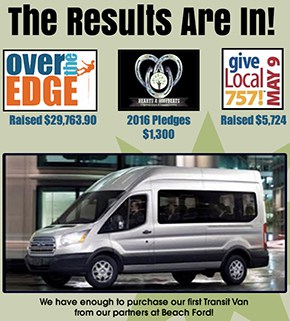 As we move closer to our goal of creating accessible, beautiful homes and work opportunities for individuals with intellectual disabilities, we are constantly looking for opportunities to serve our future participants in the here and now. We've seen that there is a demonstrated need in the area for transportation, and are so excited to say we've raised enough money for our first van! You've walked alongside us through a busy Spring season of fundraising, and because of you, we'll be able to start helping future residents NOW through our transport service.
It was amazing to see how our community came together through the Over The Edge and Give Local Fundraisers, raising nearly $37,000! As we continue to raise support we hope others will also see the importance of Vanguard Landing and our impact on an underserved community. It will be life-changing for so many families, and will be successful as our community literally wraps its arms around the project, to see it developed!
There are many ways to continue supporting this amazing cause, but here are two easy things you can do:
Become a Guardian Angel
This is a program where an automatic, monthly donation of $25 or more to Vanguard Landing is established for a designated period of time. You set the start date, and the end date for this monthly donation! Click Here to fill out the form and become a blessing to VGL!
Van Pavers
Leave your mark with engraved brick for just $125, or a large brick for $250. These will be used to pave the walkways at Vanguard Landing. Bricks can be customized with words and a design. You can choose to honor a loved one, or simply show your support. Click Here  to place your order now and support the Campaign to Fund Vanguard Landing!
As always, we appreciate your support and are so excited to see this community becoming a reality. Thank you for helping make our big dreams a reality!