Our Mission Statement is to offer a safe, intentional, interactive and inclusive community where persons with intellectual and developmental differences can thrive and achieve their life's full potential.
We are a person-centered community where the strengths, gifts and capabilities of our citizens are embraced, nurtured and celebrated.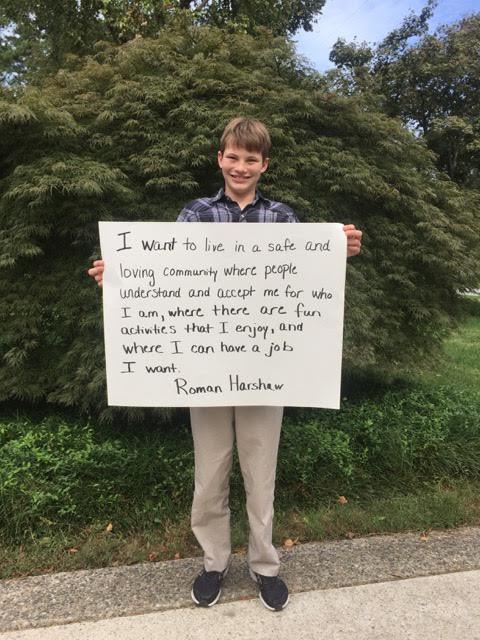 The Commonwealth of Virginia has consistently ranked at the bottom of all 50 states in opportunities for persons with developmental disabilities. The fact that they were cited by the Department of Justice after parents complained, for spending too much on state institutions and not enough on other options in the local communities that they came from, contributed to this problem of being less at the forefront of new ideas. The non-profits located in the state helped with some options but still today, there is a severe lack of options in every facet of a full life.
Vanguard Landing, another non-profit organization will help to address that problem with the development of a comprehensive, sustainable Intentional Community in Virginia Beach that will provide a safe and innovative place for people with disabilities to live, work and enjoy recreational activities if they so choose!
Vanguard Landing will provide its residents and day participants numerous opportunities within a supportive environment to reach their greatest potential and achieve their personal goals in all areas of their lives including life skills, continuing education, job skill development, leisure time utilization, expressive arts, lifelong fitness, and community involvement.
Vanguard Landing will have onsite Enterprises such as Bridlefield Manor, our Special Events Center, Van Dough's Bakery and Sandwich Shop; Van-Bloomingdeals Thrift Shoppe, Lindsey Grace's Farmhouse Restaurant, and The Van Garden Farm Market.
"VGL will be the ultimate "Choices within the Choice" for people to have available!"
The Proposed Vanguard Landing Project:
Will develop a 75-acre agrarian-based community offering a fully integrated community life experience for up to 200 participants. There will be on-site businesses, including a Special Events Center, Van Garden, and Market, Equestrian Center, Lindsey's Restaurant, Twice as Nice Shoppe, and leased space to The Cole Academy Pre-school, a local dog rescue, and more.
Is modeled after the nearly 124 similar Intentional Communities around the country which are addressing the need for residential, employment, social and recreational opportunities for citizens who need some extra support to live a full and meaningful life.
Fills an unmet need—Vanguard Landing will accept both private pay and Medicaid waiver as payment for rent and services. Our citizens will enjoy and participate in all the offerings of the surrounding community.
Has the support of the City of Virginia Beach, which provided the funding to purchase the parcel of land.
Has a solid financial business model—after Construction funding is secured, Vanguard Landing's ongoing income streams will support the ongoing operational costs, as well as future construction loan payments. A Business Feasibility study was completed by The McGladrey Group which supports this business plan.
Even though groundbreaking is several months away, 202 requests for admissions have been received and almost half of the 1st Phase slots have been filled.