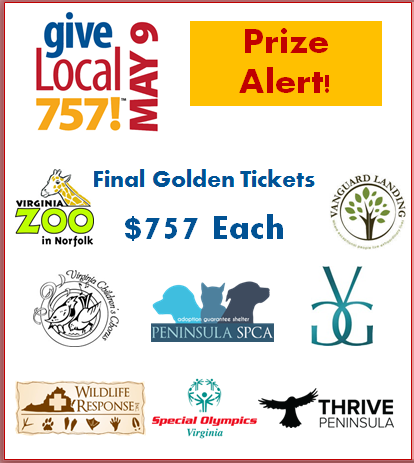 The next Give Local 757 is May 8, 2018: Save the Date!
Once again we stand in AWE of our amazing supporters! As we embarked up Give Local 757! this year, we were once again touched by the outreach from so many individuals who chose Vanguard Landing as their "LOCAL CHOICE" for giving.
We brought in $4,327.00 in donations and $757 in prizes for a total of $5,164.00!

We are pleased to announce that PCF Virginia had some unclaimed donations and randomly chose 7 charities to distribute these extra donations to — and Vanguard Landing was chosen as one of the seven!
EVERY donation bring us even closer to creating a special place where adults with intellectual disabilities can thrive, lead fulfilling lives and engage in enriching social and professional activities.
Thank you to everyone who donated to us in 2017 – and we look forward to seeing your smiling faces at all of the events in the coming year!
Donor Salute
Our success during the Give Local 757 2017 event would not have been possible without our donors and supporters. Thank you so much to those who rallied together during the fundraising event to raise awareness, donate, and celebrate Vanguard Landing!
| | |
| --- | --- |
| Name | In Honor/Memoriam |
| | |
| Sharron Kennovin | For Lindsey!! I love you! |
| Julie Harshaw | For Roman |
| Anonymous | Lindsey Dear is my hero! |
| Angela Schwartz | |
| Ashton Dear – | For Lindsey Dear |
| Whitney Dear Reyes | For Lindsey Dear |
| Cheyenne Starcher | |
| Sarah Cossell | For Lindsey Dear |
| Fred Manfredonia | In loving memory of Millie Gallan |
| Matthew Brehl | For Elizabeth Brehl |
| Ronald Keim | |
| Thomas Carty | In honor of Sean Carty |
| Anonymous | for Roman Harshaw |
| Brenda Carlo | In memory of Rev. Ron Norton |
| Robyn Marshall – | For Julie Harshaw |
| Josephine Rosengrant | In memory of Herbert Rosengrant |
| | |
| Tracey Sanders | for Roman |
| Margaret Bond | |
| Anonymous | |
| Diane Crawford | |
| Chelsea Jennings | |
| Greg Daniel | for Roman Harshaw |
| Anonymous | |
| Genine Cooper | In Honor of Joshua Cooper |
| Laure Haddock | For my friend Lindsey! |
| Jordan Dear | |
| Debra B. Dear | In Honor of Whitney Dear Reyes |
| Douglas Dear | For Lindsey Dear |
| Cynthia Dear | For Lindsey Dear |
| Terry Stevens | |
| Charlene Brehl | |
| Chris Bures | |
| Josie Rosengrant | |
| Kenneth Hall | |
| Robert Miller | For Mom |
| Judith Sweet | |
| William Harshaw | For Roman |
| Michelle Strickland | |
| Shelbie Lillefloren | |
| Debbie Nolan | |
| Julie Giarrana | |
| William Bridges | |
| Sharron Kennovin | Because I believe in Vanguard Landing! |
| Dana Lamade | |
| Mary Ramsay | |
| Richard Nickerson | |
| Laura Ricketts | |
| Vikki Thompson | |
| Steve Thompson | |
| Bernard Molina | |
| Anonymous | For Roman Harshaw |
| Julie Olszewski | In Honor of sweet Lindsey |
| Nicole Moriarty-Garner | |
| Anonymous | In Honor of my children |
| Kim Hackforth | |
| Justin Huffman | For Lindsey |
| Anonymous | for Lexi Tiaba |
| Craig Starcher | |
| Richard Brehl | |
| Debra B. Dear | |
| John Hartzell | |
| Love NP VB | |
| Ashton Dear | |
| | |